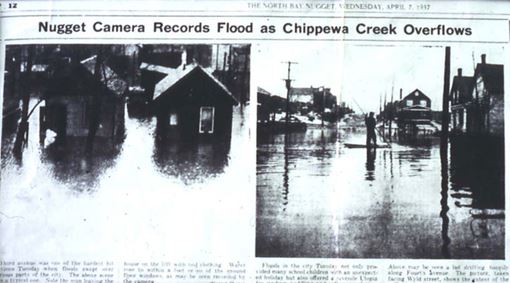 Historically Chippewa Creek has experienced extensive and frequent flooding. Serious flooding events have occurred in nearly every decade since the turn of the century. Many factors contributed to the historic flooding and property damage: sediment build up in the creek bed, erosion of the banks, and an increasing amount of stormwater runoff. During a storm event, water levels in Chippewa Creek could rise to flood levels quickly and without much notice.
This 2003 presentation "Chippewa Creek: Flooding, Erosion and People", gives a photo tour of the creek's historic flooding, highlighting the damage to shoreline and properties as well as some of the factors which contributed to these flood events.
Historic Flooding and Erosion on Chippewa Creek
On the top left corner of each page in the presentation, you'll see a small orange bubble. Click on the "bubbles" to read about how people, property and the creek were affected and the steps that were taken up until 2003 to protect them.
For information on the work that has been done on the creek since 2003, visit the Flood & Creek Management Page or walk the EcoPath and check out the information signs, particularly between John St. and Duke St.