EcoPath Story
The Nipissing Botanical Gardens and Heritage Gardeners planted a seed of an idea in 2004 – to identify, preserve and create green spaces with plantings and trees that could be grown and used for research, education and ornamental purposes. The North Bay-Mattawa Conservation Authority and the City of North Bay were concerned about the erosion, flooding and pollution along Chippewa Creek and in 1978 began a series of improvement projects. In 2010, these four groups came together and approached RBC Blue Water Project for funding to marry their visions – a project that would incorporate plantings and trees to improve the water quality of the creek and develop a sustainable watershed education program to foster the ongoing stewardship of the creek. Thus the Chippewa Creek EcoPath was born.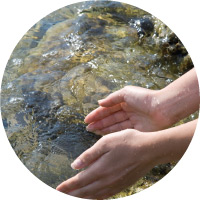 Water Quality Improvement
Chippewa Creek has undergone many changes over the centuries. Prior to the growth of the city, Chippewa Creek was a coldwater stream. Erosion, channelization and loss of tree cover along the shore has caused the temperatures to warm up. Sensitive coldwater species of fish, invertebrates and aquatic plants have been replaced in many areas by more common warm water species. In the late 1880s, the creek was the dumping ground for a sawmill and brewery, sewage and a landfill. Steps were taken over the next 100 years to reverse the damage including the removal of outhouses in the 1950's and installation of sanitary sewers. In recent years, plantings and clean-ups by community groups, the EcoPath project, and Adopt-the-Creek stewards have made a difference. The North Bay-Mattawa Conservation Authority conducts water sampling at the mouth of the creek and eco-sensitive species sampling sampling near the headwaters. Water quality has substantially improved over the last 30 years.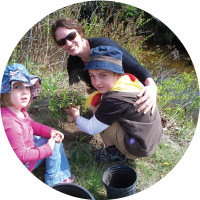 Education & Stewardship
Along the EcoPath you'll see eight interpretative signs that will tell you more about Chippewa Creek and what you can do to help restore its health. You'll find additional information through the QR code links on the EcoPath signs. Through the "Adopt-the-Creek" stewardship program, you can help with clean ups and monitoring the creek. Kids…watch for Benny the Burbot. You can make a difference! Look for these interpretative signs along the EcoPath!
Bring the hand EcoPath Info Card with you on the Trail! You can download it for viewing or printing (EcoPath Information Card)